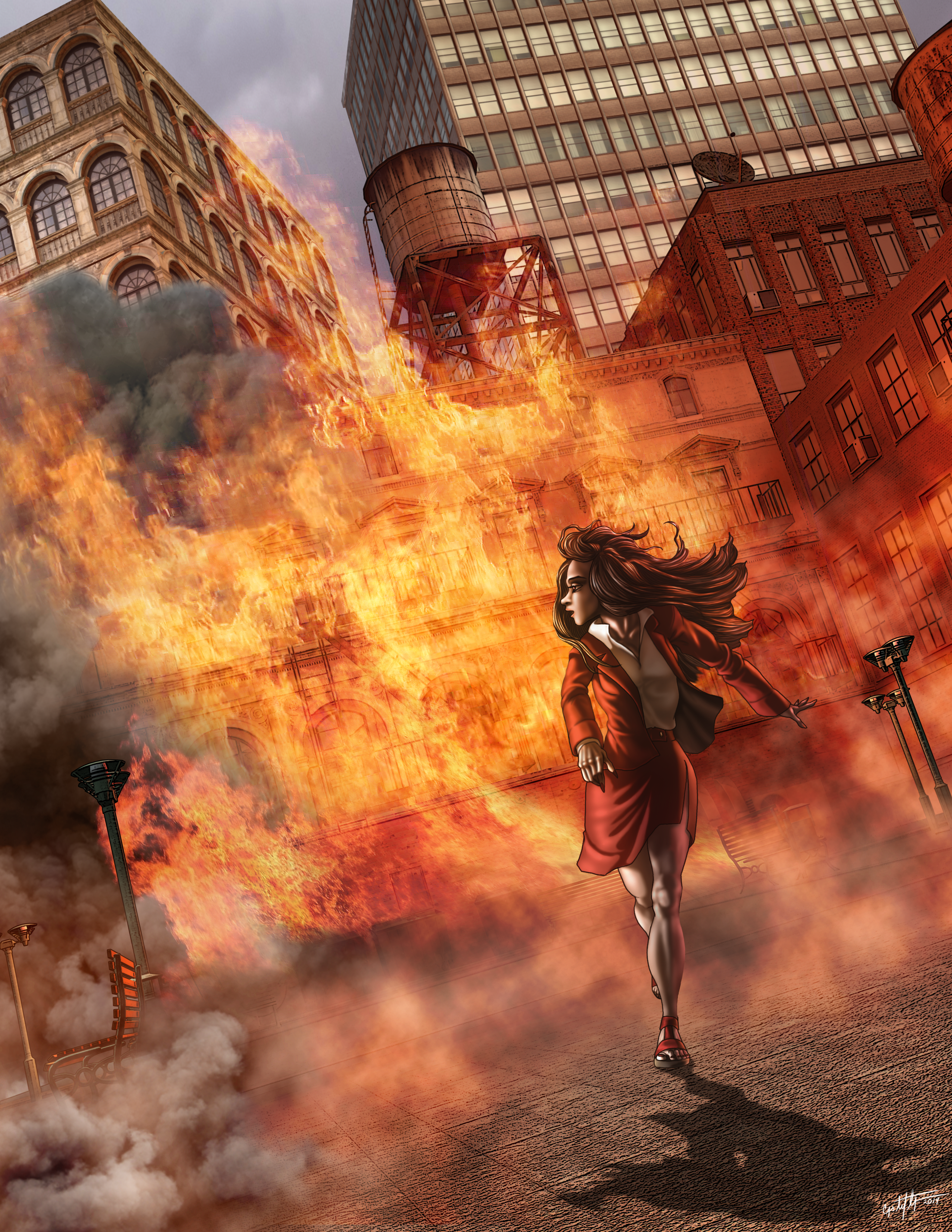 ~~~~~
Luc couldn't help thinking that Charlene was in trouble. He felt like he knew her, somehow, and that he had to act to save her. He didn't know what was wrong, but his instincts told him to act. 
He asked the hotel to store his bike and caught a cab to Reagan International Airport. He caught the first flight leaving for Calgary and arrived just as the sun was setting. He rented a car and plunged through the darkening night to Mountain River. 
As he entered town he could smell the smoke and see the burned out shell of the building on Main Street where Charlene had her office. The local fire department was still dousing smouldering embers as wisps of smoke and steam rose in the air. 
Charlene's assistant, Bonny, stood across the street, weeping into a ball of tissue. 
Luc called out to Bonny, "What happened?"
She replied, " They don't know. The fire started in Charlene's office last night. It has been burning all day. They can't put it out." 
"Where is Charlene?" Luc demanded. 
"I don't know. I saw her earlier, she said something about having to do some things before she goes." 
"Goes where?" Luc nearly shouted.  
Bonny replied, "I don't know. She also said something about having to go pay her respects. I don't know, it's been crazy around here all day. The fire, people dying, it's been awful." 
"People dying?" 
"Five people have died today, all clients of ours. Emmitt Smith, the car dealer, he got run over by a car that started up in his showroom. And Nancy Kelly, the figure skating champion, she fell while practicing and caught a skate blade in the neck."
Luc, seemed to regain focus. "Who else is a client?" he asked.  
Bonny said, "The mayor, the chief of police, most of the big business men in town, the Premier,..." 
"Thanks. I'm going to see if I can find her." 
Luc ran back to his car and set off to find Charlene. He tore up and down the streets of Mountain River, cursing the lousy headlights and wretched V6 engine of his rental car.