There is a town on the great plains of North America they say has all Hell for a basement. 
This story is not about that town, because there is another sleepy city, west of there, called Mountain River, that has its very own devil. 
Her name is Charlene Kincaid and she makes for a much more interesting story. 
Now most people in Mountain River know Charlene as a fiery local girl who went away to school and returned to become the town's most successful attorney. What most don't  know is that Charlene is also a powerful supernatural entity. She is capable of transforming into a demonic form with frightening powers. She is gifted with sight into the spirit world and is fully authorized to make deals for mortal souls on behalf of Hell. 
For her clients seeking fortune, fame, love or revenge, she can craft an agreement granting their every wish in exchange for a signature in blood and certain future considerations. 
A slice across the thumb with a needle sharp stiletto produces abundant warm red drops to fill an ink well and wet her black feather quill pen. A quick signature and anything you want could be yours. She always stops the bleeding by kissing each finger better, her lips glowing momentarily red with hell fire to seal the wounds. 
Her clients include the wealthy and powerful, the famous and beloved. Everywhere she goes she can count on VIP favours to make her the centre of attention. She is always looking for new souls, seeking out those who could be turned and tempted with the pleasures of the material flesh and the avarice of easy wealth. 
They say evil is seductive and, well, no one has ever been more evil or more seductive than Charlene. 
~~~~~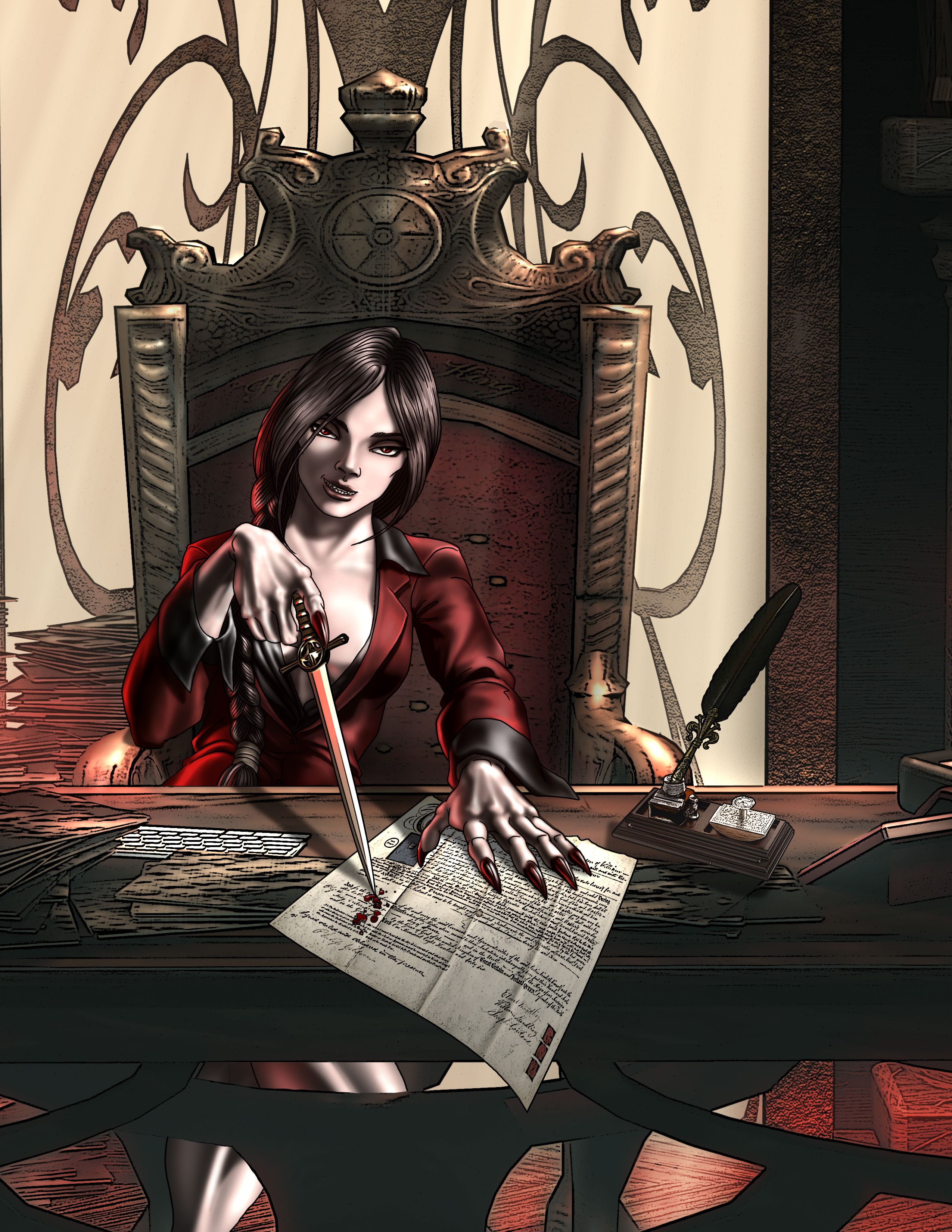 ~~~~~
Charlene was supernaturally calm writing her first contract. 
Whereas, the short, fat man sitting across from her was sweating profusely, with drips accumulatingon his unkept eyebrows and nose. 
Blood still dripped from his thumb where her ceremonial stiletto had sliced it. 
Coming around the desk and witnessing his signature using the blood still warm in the small black ink well, she turned to him and said "Here, let me kiss that better."
He meekly reached out his dripping hand and she grabbed him forcefully by the wrist. She put her lips to his cut as they briefly glowed red with hell fire. His scream would not carry past the heavy door to her office and covered the sizzle of his flesh burning. 
The smell of burned flesh and sulphur lingered as Charlene took a cloth and removed the remaining blood from his hand. 
Just as she finished her assistant Bonny opened the door. 
"Mr. James, there is a call for you at my desk." 
Charlene looked him in the eyes and saw his new composure start to come through the terror and shock. 
She said to him, "That call will be from Mr. Michael Jacobsen, President of the Conservative Party. You will be asked to run in the Yellowhead Riding. This is your first step to the power and respect you seek. You will have all the help you need to succeed from my associates." 
"I would say good luck, but you won't need it. We will see to that."
As he stood and made his way to the door, she could see that he was stretching taller, head higher and shoulders back. As he confidently said, "Hello?" on the telephone before her assistant closed the door, his voice was a full octave lower than before. With her supernatural vision into the spirit world, she saw his life energy turn both larger and darker, while a new demon hung by its fangs and claws squarely on his back. 
She gathered up her artifacts, the blood well, knife and quill all fitting into a black lacquered box decorated with gold and pearl filigree. She rolled the velum of the contract into a tube and secured it with the two ties sewn to the back of the animal hide. 
She slipped the contract into a locked cabinet behind her desk, placing it in the first open space on the top left. The cabinet had room for dozens of contracts and she pledged to fill them all, to please her lord and lover.